I find it quite strange that many of the good employers, cite that it is becoming more difficult to find, attract and hire the right talent! While at the same time, talented professionals looking for a new challenge also seem adamant that such opportunities are rare or non-existent. Perhaps a look at the current recruitment methods or tools can give us the answer.
The current recruitment processes and tools are mostly cumbersome and outdated. They are not suitable for this day and age, and notably not suitable for generation Y, AKA the Millennials. Companies and Businesses are now competing for talent and need to sell themselves to the individuals as much as candidates selling themselves to the business (not literally !)
Who wants to spend hours in a room full of other candidates waiting to be interviewed ? What does that tell you about the company ? Who wants to keep filling endless forms or sending e-mails into a black-hole ?
At the other end, who wants to spend countless hours on the phone, or in person talking to the wrong candidate? Who wants to fly somewhere, or fly people in for an interview, only to discover later that he/she misses one vital requirement, such as a specific trait, or a language skill that was over-hyped on the CV.
How much time and money do we spend on assessment centers and record outcomes/ grades / notes & comments on paper, then spend hours and days later to tally and come up with the results or possible "perfect match" – when it's too late to make our move? How many times did you go for the second or third best coz. the best and perfect candidate was not available (mostly got another offer somewhere else) Why are we doing this to ourselves? Why are we wasting time and effort sticking to our old guns and hoping for a different outcome, that's crazy isn't it?Yesterday's tools are not suitable to acquire tomorrow's talent!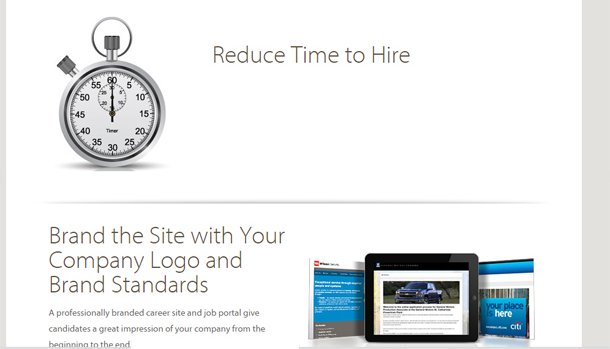 Surely, online recruitment tools and systems have existed for sometime, but some of them don't effectively do what they say on the box! Yes they come from reputable providers but in some cases they are not flexible enough, not easy to use by the recruiter or the candidate (sometimes both) and some of them require you to change your process to fit the tool rather than the other way round.
Worse they sometimes come as a part of a large ERP solution that costs an arm and leg and have you trapped, not able to calculate the ROI of just the recruitment part.
What if you had a tool that is efficient, cost effective and easy to use? Something that works from your mobile or tablet the way you want it to? And saves not only your precious time, but the candidate's time too. How cool would that be ?
A tool that is cloud hosted, fully managed on your behalf, branded with your company's look and feel and with built-in capabilities like Application Tracking, Synchronous and Asynchronous Video / Audio Interviewing, fully customizable and adaptable automated workflows that can even be unique for each position, something that has templates for "structured Interviews" and a digital assessment center that gives you real time – Live calculation, score and hiring recommendation just when you need them – not days later!
The "A-HA" moment
I GOT that, it saved us 70% of the recruitment cost and 90% of the pain! We have used it, loved it, and brought it to the region: It's VidHiring from VidCruiter http://ltsdo.it/VidCruiter Demos and pilot (test drive) available on request, I also encourage you to take the ATS challenge here: http://ltsdo.it/ATS-Challenge
Amr Selim.
Related Posts from HumanTalents blog: