I remember the days when we filled paper forms with questions, designed attractive comment boxes and rushed after customers around the store in order to convince them to leave a piece of feedback on the products or services we offer.
I was the head of Starbucks Coffee in Turkey back then.
We were just starting here and wanted to grow fast. We knew that the best way to grow our business is to manage it through the eyes of the customers –
If only we could listen to their thoughts and whispers…
We knew… But just didn't have THE tool.
Those days are long past.
Today, – big or small, commodity or luxury – all brands have grasped the importance of customer experience (CX).
Temkin Group (a very insightful CX consultancy company that I closely follow and respect) identifies 3 pillars that customer experience rests atop.
1. Success
This is basically the end result of the purpose of contact.
How successful was the customer in achieving his objective for coming in to the contact point?
2. Effort
How much effort has the customer had to spend in order to achieve this result?
As you would guess: Lesser the effort better the experience.
3. Emotion
Resulting emotion(s) of the products/services offered at the contact point.
How was the customer feeling after leaving the contact point?
Now that the world is small, competition is fierce, differences are negligible; and CX is the hottest topic.
There are many consultants out there trying to help brands design and improve their customer experience. They lay out the customer journey maps and try to accurately identify gaps to close.
Well, who can tell you these gaps, better than your customers, right?
Staffino – a global fast growing and innovative platform and mobile app from Bratislava, offers all sorts of organisations (from schools to retailers, hospitals to hotels, airports to museums, gas stations to sports competitions – you name it) an effective and super-easy way to closely listen to customers.
Via Staffino, customers no longer keep their secrets to themselves.
Companies get to know everything to make their customers happier by getting answers to the following questions and more:
What makes your customers happy?
What makes them disappointed?
What product or service are you missing?
How is the service experience at your locations?
Which staff member serves customers best?
What are the areas of improvement?
Who are your most loyal customers?
…
Furthermore, happy customers can directly appreciate the service performance of the staff by leaving them "Thank-You"s via Staffino. These are passed through company managers for personal recognition.
Boston Consulting Group's (BCG) latest survey on happiness at work identifies "Appreciation for work" as the #1 factor.
No wonder why "Thank-You"s left via Staffino not only reinforces good service but also raises staff motivation and drops turnover rates.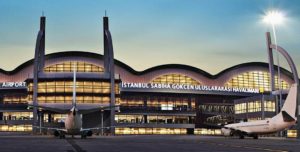 Turkey took notice and now Istanbul Sabiha Gökçen International Airport is the first International airport to invest in this powerful #CX monitoring and management tool.
On your next flight in or out of İstanbul Sabiha Gökçen – remember that your passenger experience is highly valued. You can easily review shops, restaurants, passenger services or facilities at the airport with a few slides of your finger tip. Just put out your mobile device – or laptop, whichever is convenient to you – and follow through:
1. Type in staffino.com/isg
2. Review listed venues, services or facilities (you can also search or filter categories by using the boxes on the top of the screen to locate what you are looking for)
3. Leave a Thank-You (positive experience) or a Suggestion (negative experience) by explaining your reason in a few words…. That's it!
Now lean back and relax… You will definitely hear from the airport management – may be even while you are still there !
You can also download Staffino mobile app from Apple and Google Play stores. In case you want to use the mobile app to rate İstanbul Sabiha Gökçen International Airport (or any service provider – anywhere in the world)
If you are reading this only after you have already flown through İstanbul Sabiha Gökçen, do not worry 🙂 You are still within range and providing feedback is still possible, now that you know where to go: staffino.com/isg
We would like to congratulate İstanbul Sabiha Gökçen International Airport's management team in their decision to invest in to passenger experience via Staffino.
As for you…
Your line of work does not matter, Staffino will add value to your business.
Hint: We are about to start with a private law office to provide their clients an opportunity to rate the service of their lawyers.
You see, with Staffino on your side, the SKY is the limit!

Kılıç Arslantürk
An Entrepreneur – Retail Veteran – Inspirational Speaker – Team & Executive Coach & Mentor – Experienced Trainer – Author.
Related Posts from HumanTalents blog: