How to easily transition to doing business online
and switch to e-commerce
A Webinar hosted by the Tri-Cities Chamber of Commerce & Presented by Amr Selim, The Internet Guy!
Were you pushed by COVID-19 to take your business online? 
I have been working with business owners for years, helping them transition into doing business online, without technical issues or headaches!
When the Novel Corona Virus #COVID-19 hit! Many small business owners in Canada and the US, discovered that they were not (and probably still are not!) ready to move their business online and continue to serve their customers.
COVID-19 Has been an eye-opener for many business owners & managers, some suddenly realized the importance of e-commerce and doing business online and others found out that their websites aren't providing what their customers want.
This is a 30 minutes webinar hosted by British Columbia's Tri-Cities Chamber of Commerce and Presented by "Amr The Internet Guy" The founder of HumanTalents Tech. during the month of April 2020.
Amr shares with the Audience how to be prepared, what to look for, and what to do in order to successfully transition to e-business/e-commerce and ensure that their customers can be fully served!
Here's the recorded webinar, Enjoy!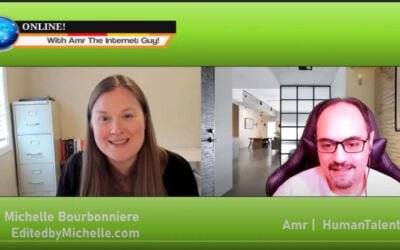 🎧 This is Online With Amr The Internet Guy! Episode 9 "Content is King!"
My guest is the experienced editor, SEO Expert, Google whisperer & Ph.D. holder, Michelle Bourbonnière.
This a "must-see / must listen to" episode for everyone who has a website or a business! We share a lot of useful stuff and ideas that you can implement right away in order to improve your site's content and SEO.
read more